Items filtered by date: February 2013
Friday, 15 February 2013 00:00
For nearly 40 years, PSI Repair Services has seen a fair share of broken vacuum pumps come through the doors. Yet, even to this day, we still hear from plant managers and operations personnel that didn't realize they could save money by repairing their broken vacuum pump. They're even more surprised when they learn that they could save as much as 70% versus the cost of buying a new, replacement unit. And it doesn't matter if it is a Beach-Russ, Dayton, Gardner Denver, Mitsubishi, Siemens, Stokes, Ulvac or Whitlock. PSI has repaired them all.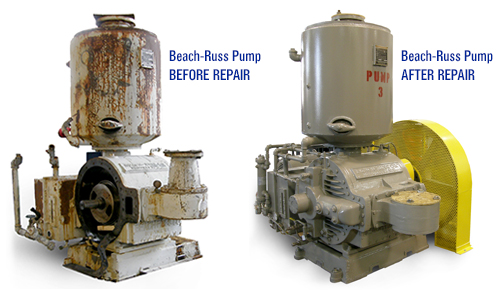 We thoroughly check and evaluate the gaskets, seals, bearings, valves, temperature probes, belts, couplings, pulleys, and electrical motors on every broken vacuum pump we receive. If there are any unsalvageable and/or obsolete components, PSI's Engineering Department offers comprehensive rebuild/remanufacturing services. In many cases, PSI's engineers can enhance the performance of a faulty OEM component with superior, more efficient technology to further extend the component's life.
To go the extra mile, PSI offers synthetic oil to protect your vacuum pump from high load/temperatures, intermittent operation, warm/cold climates and mobile applications. We also utilize a dry lube process to lower friction and increase running efficiency in the rotating group, as well as add rust inhibitors to improve material integrity and increase operating life. We even balance your vacuum pump to ISO 2.5 levels, even though 6.3 is the norm. In addition, we spin balance where a bubble balance is standard.
Best of all, PSI employs the industry's most complete and thorough after-repair test procedures. We perform bench and system tests to ensure that your repaired vacuum pump will operate correctly back in your plant. Plus, if you need to get your vacuum pump back into production as quickly as possible, PSI offers emergency services and exchange units (if available) to speed up the process.
Now, do you see any reason to buy a new vacuum pump?