Items filtered by date: March 2014
Wednesday, 26 March 2014 19:51
Seismic vibrator trucks (aka "thumper trucks") send shockwaves deep into the earth's subsurface to locate untapped hydrocarbon reserves for the Oil & Gas industry.
These shock/soundwaves reflect back to the surface, where they are picked up and recorded by geophones. This seismic data is later imaged with advanced software (think: ultrasounds) and analyzed by geologists who advise oil companies on where to drill for oil reserves.
Not surprisingly, high-quality seismic data is mission-critical. Geophysical surveys can cost $50,000 or more per-square-mile depending on the territory, and multi-million dollar projects—sometimes billion dollar projects—are ultimately on the line. In short, there's no tolerance or margin for error in this industry.
Thumper trucks are intricate machines, however, powered by complex hydraulic and mechanical systems. To generate the massive force necessary for a controlled and effective sound blast (for perspective, dynamite used to be the preferred method for this), all equipment must be highly precise and high performing.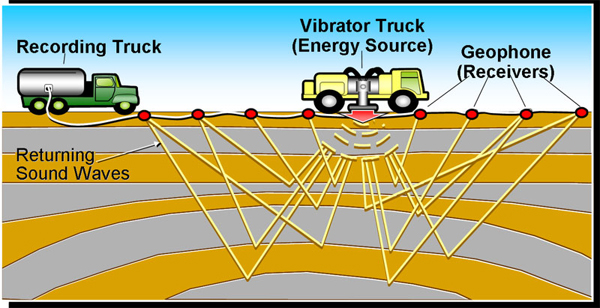 Source: http://lingo.cast.uark.edu/LINGOPUBLIC/natgas/search/index.htm
When the base plate of the vibrating truck rapidly "thumps" the ground (watch this video), the vibration puts acute stress on the mechanics driving the action. Hydraulic Servo Valves are a key example of this. By porting fluid and directing the hydraulic actuator to vibrate the base plate, servo valves are especially important components that are susceptible to wear and malfunction.
High-intensity vibration exposes these high performance valves, which are usually complex three-stage and four-way valves, to a variety of problems that can corrupt other parts and lead to failure and downtime. Although these issues are difficult to diagnose in the field, servo valve failure is most often caused by the following:
1. Contamination: servo valves in vibrator trucks are exceptionally precise assemblies and the smallest particles can cause them to fail.
2. Internal part failure, especially:
a. Torque motor failures
b. Spools wearing out
c. AFSAs (a directional needle inside the servo valve) developing flat spots.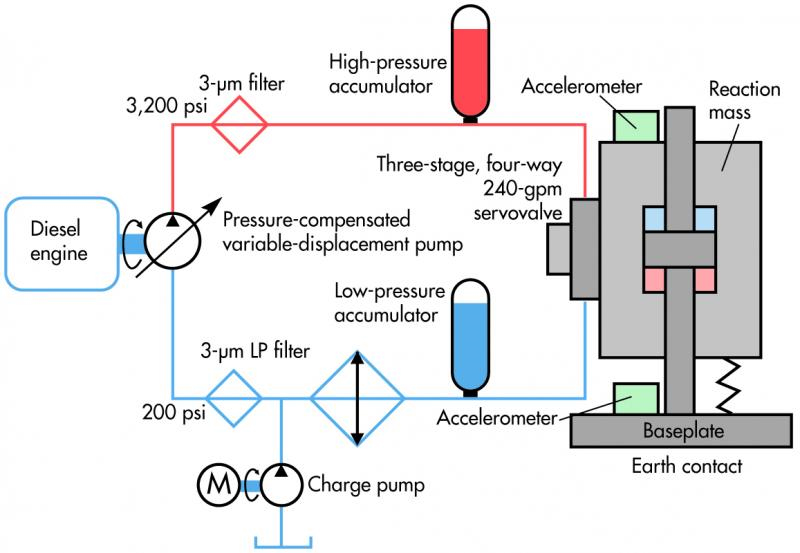 Source: http://hydraulicspneumatics.com/other-components/hydraulics-delivers-good-vibrations
Unfortunately, pinpointing the faulty servo valve component is only half the battle.
Regardless of whether or not the defective or broken part is identified, most geophysical exploration companies rely on the component's OEM to restore equipment to working order. This dependence on OEMs is a costly and inefficient arrangement because it typically only provides customers with one option: replace your out-of-warranty defective parts with brand new (expensive) parts.
PSI Repair offers better options at lower price points. PSI's servo valve lab operations are set in a temperature-controlled, clean room environment. When a defective valve is shipped to our facility and we've determined the full extent of its damage, we execute the following repair steps:
1. Test servo valves on run-in test stands
a. Check performance to OEM specifications
b. Determine repair requirements
2. Analyze fluids running through the customer's process
a. Recommend fluid improvements
b. Suggest maintenance requirements
3. Disassemble valve
4. Clean all parts ultrasonically in a heated vapor degreaser system
5. Replace all broken, worn and missing parts
6. Reassemble the valves using new Viton seals
7. Test valves on a dedicated test stand capable of low and high flow testing
When the PSI repair process is complete, the remanufactured, like-new condition servo valve will always meet the same industry specifications for performance as new valves, and it will often exceed the expected lifetime of the original valve.
PSI provides additional value by offering surplus parts and emergency repair services to help clients limit downtime and reduce costs. Best of all, PSI can save you up to 70% versus the cost of buying a replacement servo valve from the OEM.
For more information about our servo valve repair services, call us toll-free at 800-325-4774 or visit https://www.psi-repair.com/contact-us