Items filtered by date: August 2016
Monday, 08 August 2016 00:00
Faulty Wind Turbine Electronics Systems are Mostly to Blame
---
The potential: 35% by 2050
Alternative energy skeptics are keen to point out wind energy only made up 5% of total electricity generation in the United States in 2015; a mere "drop in the bucket."
While it's true the power generated by wind energy and other sustainable sources is dwarfed by that of fossil fuels, it's also a mistake to overlook the boom the wind energy industry has experienced in the past decade.
Demand for sustainable wind energy in the U.S. has grown an average of 22% per year since 2007. 50,000 wind turbines currently generate 75,000 MW of energy across the country, powering over 20 million American homes per year. Consider that a very large "drop in the bucket".
Granted, this industry is young compared to coal, natural gas, and nuclear but large-scale investment in wind energy didn't begin in earnest in the U.S. until 2000, and off-shore wind farms have yet to get established.
The problem: wind turbine reliability
Despite this striking growth potential, wind turbine reliability is a serious cause for concern. Commercial wind turbines (WTs) are supposed to last 20 to 25 years, but this is typically a grandiose projection. The heavy toll from wind, temperature, humidity, precipitation, and other environmental factors stresses WTs to the hilt, and their availability and output declines sharply with exposure.
With operations and maintenance (O&M) costs increasing as turbines installed between 2000 and 2007 get older, improving the reliability and performance of WTs is a paramount challenge for the growth of the industry.
The economic forces behind this statement are clear: WTs are expensive—typically $3-$4 million per unit once installed—and unplanned downtime resulting in lost electricity sales is costly. This downtime cuts into slim profit margins and makes investing in wind energy less appealing to stakeholders and policymakers.
t's estimated that every WT languishes for 3% or more during the first 10 years of its lifespan, not including natural standstill. What's more, this estimate doubles to 6% after 10 years, as O&M costs associated with replacing worn out components and upgrading obsolete technology stack up. The worst case scenario yet is the premature decommissioning of WTs prior to 20 years in service.
Data is somewhat shallow on this topic because of the youth of the industry in the U.S., but it's widely acknowledged even though turbine manufacturing is becoming cheaper, O&M costs will continue to soar as WTs reach their mid-teens. (Figure 1)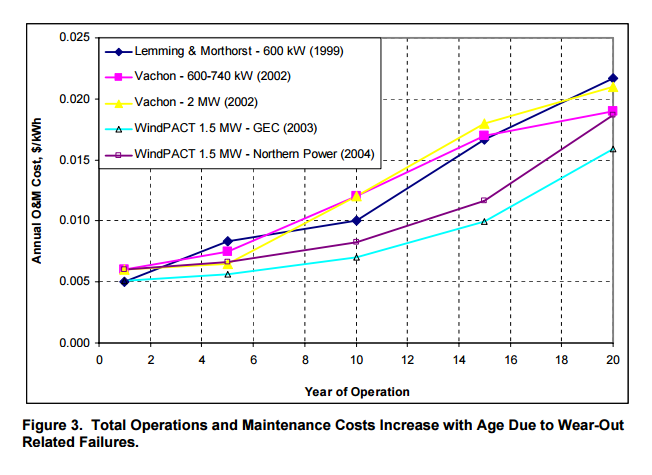 Beyond the high cost of new equipment and replacement parts from a turbine's OEM, field service labor costs also aren't cheap, not to mention the inherent danger and liability associated with having a technician lug a 50 lb. replacement part up a 300+ foot turbine.
Suffice to say the #1 goal for wind farm managers is to establish preventative maintenance strategies reducing O&M costs and increasing profitability by improving mean time between failures (MTBF) and extending the average lifespan of their fleet.
The culprit: faulty electronics
It's a common misconception that gearbox failures and/or structural problems account for the vast majority of WT failures.
According to widely-accepted Reliawind report data, electrical systems and electrical control systems cause at least 50% of all wind turbine downtime. Approximately 38% of this electrical-related downtime is caused by defective components within a turbine's power module and the other 12% in its electrical control system. As the chart of Reliawind data illustrates, the main power converter is the electrical component that precipitates the most downtime. (see figure below)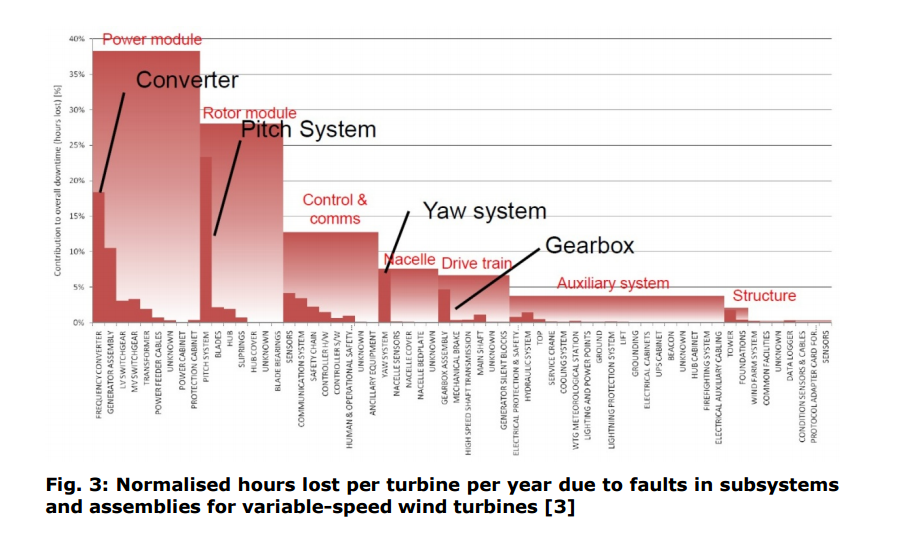 Because converters are responsible for 18% of all turbine downtime, their faults are worth dissecting individually. According to available data, the electronic components within WT converters most prone to failure are:
Capacitors (30% of converter failures)
Printed Circuit Boards (26%)
Power Semiconductors (i.e. IGBT-modules) (21%)
Temperature, vibration, and humidity are the three most common sources of failure for these electrical components, with temperature being the dominant stressor.
The solution: preventative maintenance and long-term engineering
Electronic assemblies within turbines may be some of the least expensive components initially, but they have a bad habit of creating O&M headaches and cutting into profits when downtime and labor costs start piling up.
While all WT electronic components inevitably fail, O&M managers can substantially reduce long-term costs by better anticipating (through effective condition monitoring) and addressing the root cause of these failures before high-cost unplanned or emergency field service is required. This "Intelligent Maintenance" approach will reduce long-term O&M costs and the number of WT failures. (Figure 3)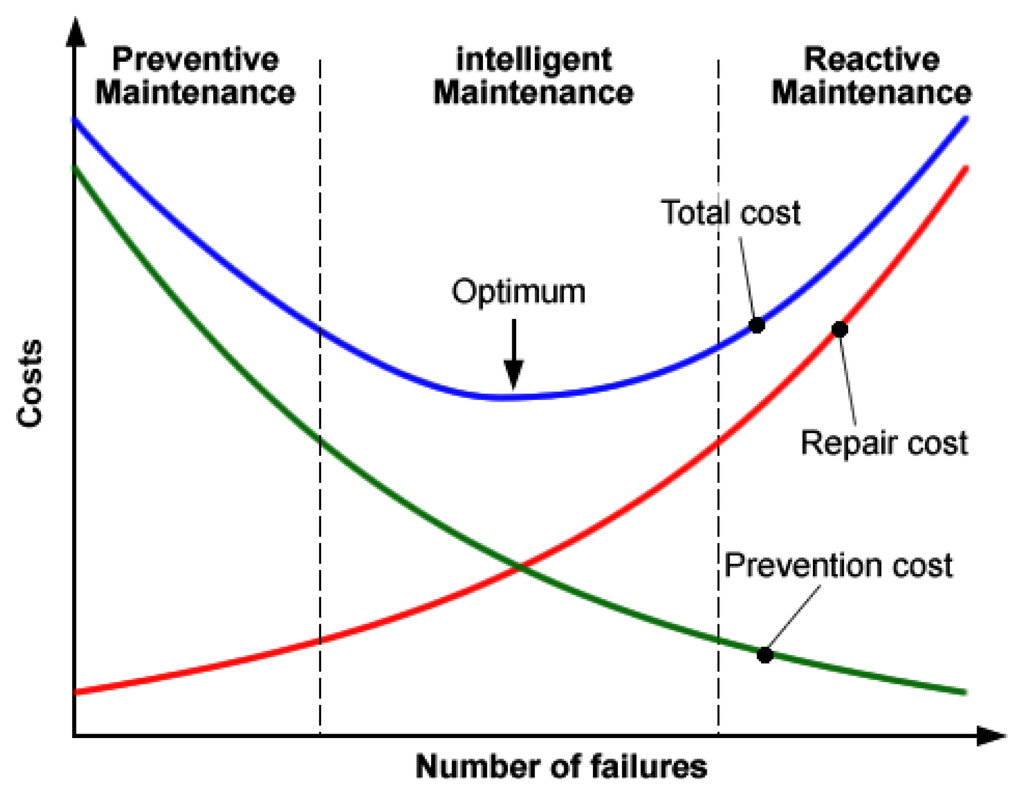 The only way to improve WT reliability and ultimately wind industry profitability is to bridge the gap between the wind farm and the OEM when warranties have expired and turbines begin to show signs of wear.
To do so, it's essential to partner with an Independent Service Provider (ISP) with experience servicing WT components including PCBs, pitch drive systems, IGBTs, PLCs, controls, encoders, transducers, and more.
Beyond repairs, the ISP should be equipped to accurately diagnose performance issues and offer cost-saving solutions by recommending and taking preventive repair actions. These actions include: removing and replacing stressed parts; improving legacy design with newer, more reliable technology; remanufacturing unsalvageable or obsolete components; and manufacturing custom-designed products.
The U.S. Department of Energy expects by 2030 wind energy will power 20% of U.S. electricity, and 35% by 2050. WT availability and performance – and especially the reliability of the electrical components within them – will need to come a long way for those exciting benchmarks to be realized.