When You Think ISP, Think PSI
As a leading independent service provider (ISP) in the wind energy industry, PSI Repair Services offers wind turbine component repair and upgrade services for GE, Vestas, Gamesa, Siemens, RePower and Clipper turbines. We cover the critical electronic, hydraulic and precision mechanical components that drive your turbines' pitch and yaw systems and down-tower electronics. Commonly repaired components include printed circuit boards, pitch drive systems, inverters, IGBTs, PLCs, VRCC units, AEBIs, proportional valves, hydraulic pumps, pitch and yaw motors, encoders, slip rings, transducers, yaw modules, 3-phase bridge rectifiers, blade bearing automatic grease dispensers, active crowbars, line reactors, oil level sensors, battery chargers, cold climate converters, and more.
As a rule of thumb, customers can expect to spend 40-70% less on repaired and surplus parts as opposed to new and/or replacement parts. For example, wind farm managers know that a particular replacement pitch system part costs around $5,000 from the OEM. However, when the component is outsourced to an ISP, it can be upgraded with newer technology—resulting in a part that runs cooler and lasts longer—for about 20-30% of the OEM replacement cost.
Don't miss our new blog series about the Five Most Failure-Prone Electrical Systems in Wind Turbines that we service the most often.
If you have repair questions or if your turbine equipment fails and you're racing to restore uptime, call us at 800-325-4774. We are here to assist you.
What Makes PSI Different from Other ISPs?
PSI goes the extra mile to gain a comprehensive understanding of the key factors that are affecting your wind turbine component's performance. We then use the latest diagnostic tools to detect failures. For electronics, we can uncover visibility down to the microchip level. We can even tell you about stressed components that are going to fail in the near future.
PSI possesses the most comprehensive experience for repairs and engineering services in the wind energy market. As of May 2019, we surpassed the 40,000 wind turbine components repaired milestone. Simply put, no other ISP can match PSI's track record of success.
PSI Offers a Wider Range of Cost-Saving Solutions
Once we have all the pertinent performance details about your component, we share them with you so that you can make an informed decision on the best course of action. Solutions can range from minor repairs to full replacement of all printed circuit boards with upgraded designs to improve performance and reliability. In other cases, PSI can replace legacy components with newer, more reliable technology or make modification improvements to the original design. We even provide full remanufacturing services for unsalvageable, obsolete components. For example, unlike other ISPs, PSI can take a cooling plate from a blown IGBT and completely rebuild it. Service options like these allow operations and maintenance (O&M) professionals to significantly increase mean time between failures (MTBF) and prevent costly downtime and repeat repairs.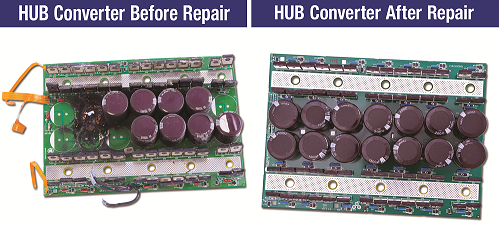 Check out this article that details our wealth of experience repairing and upgrading defective and obsolete Wind Turbine electronics.
And remember: When you think ISP, think PSI.
Does your wind farm use GE 1.5MW S Series turbines?
Do you have issues supporting the now obsolete Xantrex Matrix Inverters? Learn about PSI's upgraded drop-in replacements for Xantrex™ Matrix Inverters found in GE 1.5MW S Series wind turbines.
Need More Help?
Check out our Wind Energy Component Life Cycle Solutions Brochure. You may also enter the part / model number manufacturer, or component type in the search box at the top of the page. And, of course, you can call us at 800-325-4774.